Sharks are fish that have a full skeletal make-up of cartilage
Sharks have been on this earth as far back as 420 million years ago, even before Dinosaurs
Over time sharks have split into 440 different species
The smallest shark is known as a Dwarf Lantern shark measuring at about 17cm
The largest known shark today is a Whale Shark measuring up to 39 ft.
The common dive depth a shark is able to sustain has been measured at 2,000 meters below sea level.
Sharks are able to survive in salt and fresh water
Sharks have several sets of replaceable teeth, which means every tooth lost, another one grows in it's place.
Sharks can go through up to 30,000 teeth in it's life span.
The most well known sharks are Great Whites,Tiger, and Hammerheads, they are what is known as Apex Predators, or top of the ocean food chain
Sharks stomachs are shaped like the letter "J" so digestion can take a long time to occur, up to weeks sometimes.
Sharks have a built in mechanism that allows them to flip their stomachs inside out to dispel unwanted items the have eaten over time.
Sharks have a keen sense of smell allowing them to smell even the smallest amount of blood in the water, studies have shown they are capable of smelling 1 part per million of blood in the water up to miles away.
Sharks are more attracted to chemicals produced in the stomach of other animals then of blood studies show.
Sharks have been known in the past to have poor vision, but tests have shown that a shark has rather well vision.
They can change their sight pattern between monocular vision, which means they are able to magnify objects at a distance, to steroscopic vision or 3-D imaging.
Even though it is hard to test a sharks ability to hear, it is believed that a shark can hear it's prey up to many miles away in the water.
Sharks are able however to detect electromagnetic fields given off by every living thing that enters into the ocean, helping it to decipher between prey and other things, such as boats.
A Shark reproduces anywhere from 2-100 times in a single life span.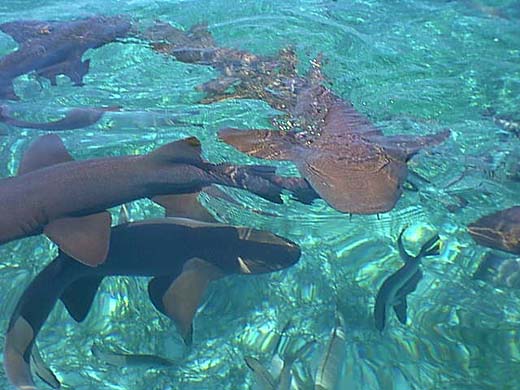 The average speed of a shark cruising, or just swimming is estimated to be about 5 MPH, in attack mode a shark can reach speeds up to 12 MPH with burst of up to 31 MPH.
Sharks are carnivorous animals by nature, mostly scavengers at heart and extremely curios about all moving objects it may come in contact with.
Out of 360 species only 4 have been responsible for known fatal attacks on humans, they are the Great White, the Bull Shark, the Tiger Shark, and the White-tip Shark.
The only threat to sharks survival are changes in their environment  and humans.
Humans kill anywhere from 38-100 million sharks annually for their shark fins.
China is the largest contributor to the shark finning crisis, followed by Japan, Malaysia, New Zealand, and Palau.
President Clinton passed a law while in office banning Shark finning aboard any US vessel illegal.






In Jan 2009, the US House passed a Shark Conservation Act to close all loop holes in the Shark Finning laws, it is currently still in the senate to be voted on.
In 2010 Hawaii became the first state in the US to ban all possession, sale, and distribution of shark finning. It will go into effect in July 2011.
Sharks are now moving onto the endangered species list due to all the finning by humans. After 420 million years of existence they are now in danger of becoming extinct.